CPAAI
1. What is CPAAI?
CPA Associates International is a global network of 150 firms in over 60 countries around the world with a history of over 60 years.
The Komiyama Certified Public Accountant Firms Group joined the CPAAI in 2001 and is currently the only firm from Japan. As the CPAAI's Asia Pacific region's president and the general representative of the KOMIYAMA & Co. group, Mitsuru Komiyama participates in the operational planning of the CPAAI and has strong connections with accounting firms all around the world.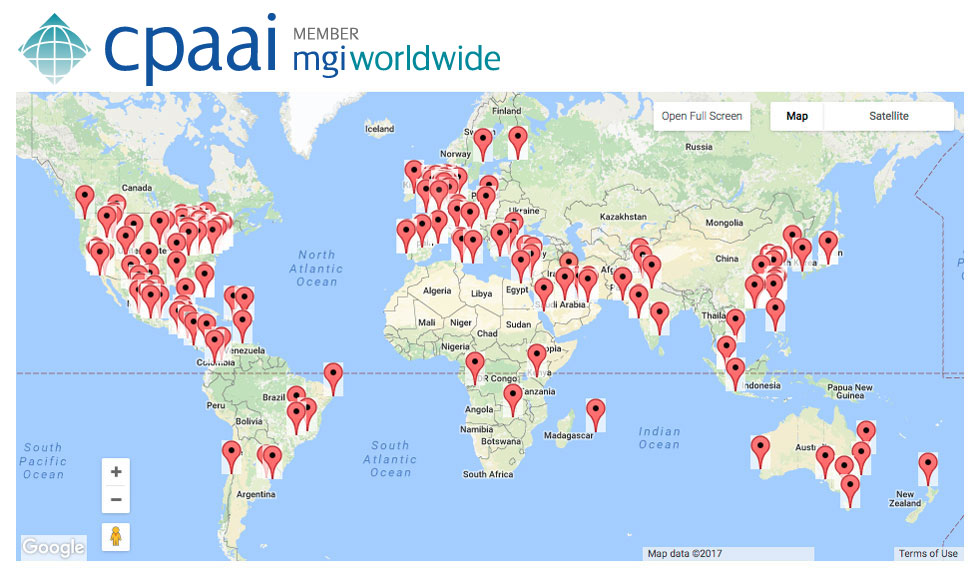 2. Qualifications and reliability of CPAAI members
Becoming a CPAAI member requires extensive paperwork, screening, and a visit to the firm by an official whom investigates several specific items. The on-site investigation includes examining the depth of experience in the specialized fields (auditing, accounting, and taxation), the quality of the firms themselves (how statement records and documents are stored, procedural forms, review and check systems, training programs, etc.), the level of expertise of the staff, and whether there were any incidents in the past and the degree of enrollment in insurance to name a few. After the results are reviewed at the board officers meeting, a final interview is held before approval.                        

Accounting firms which are affiliated with the CPAAI are midsize firms whom demonstrate leadership in each country/region. Thus, the information we obtain and accounting firms we associate with have high "reliability" that you can feel secure when using them.
3. Strength of our relationship with CPAAI
CPAAI members participate in the international conference held in each region that lasts around 1 week where they exchange specialty information from each country and share new knowledge. Additionally, there is a world conference held once every year which includes presentations from each region and brainstorming sessions to increase expertise and strengthen relationships.
4. Strengths of the CPAAI network
Considerations are made for the history and customs in the accounting, auditing, and taxation of each country, and there seem to be many cases where companies advancing from Japan can't understand and get used to such things. CPAAI member firms provide consultation services which can handle everything from the founding of the company to the everyday issues relating to the company.
5. CPAAI Member Firm
Please refer to the following website for our CPAAI member's firm specific profile.

http://www.cpaai.com/

Or you can find the member's firm information from links above.