Stakeholders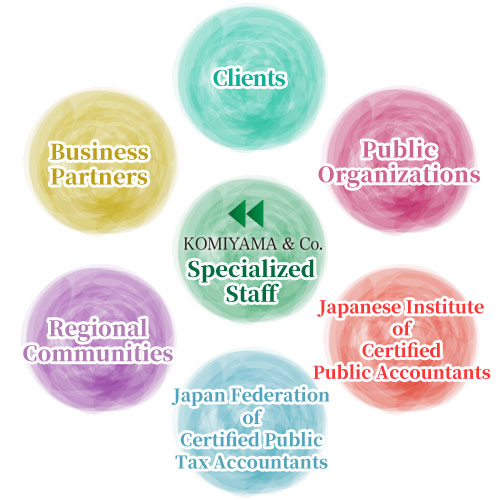 Clients
From 1959 when our company founded, maintaining the No.1 spot in the industry from individual entrepreneurs and recently established venture companies to major companies. From the wide range of industries we have assisted including service, import/export, retail/wholesale, real estate, restaurant, and even the manufacturing, our firm has grown with the support of the diverse array of clients.
In addition to public companies we also have many semi-governmental clients such as non-profit public service, medical, and incorporated educational institutions which we work hard every day to respond quickly and accurately to all our customers' various requirement.
Specialized staff
Our staff of 78 specialists includes: qualified Japanese certified public accountants, Japanese certified public tax accountants, Small and Medium Enterprise Management Consultants, FPs, U.S. certified public accountants, U.S. tax enrolled agent. All of whom are experienced and specialize in their respective fields can handle all our customer's consultations.
Business partners
We have partnerships with multiple scrivener firms, law firms, and overseas accounting firms which are active in a variety of areas and have created a system to quickly respond to the diverse questions of our customers both domestic and international.
Relationships with public organizations
Utilizing our network, we exchange information with the political and bureaucratic worlds always striving to have the latest information.

We work to obtain accurate information especially through the Japanese Institute of Certified Public Accountants, Japan Federation of Certified Public Tax Accountants' Associations, Japan Federation of Labor and Social Security Attorney's Associations, JETRO, Japan Tax Association, etc.
Relationships with regional communities
We have a long-standing relationship with the regional corporation associations, blue return associations, and other taxation-related organizations gathering information such as the conditions of other regional companies in the same industry and other special circumstances regarding taxation in the region.
Relationship with the Japanese Institute of Certified Public Accountants
We work to obtain correct information and countermeasures through the director's activities at the Japanese Institute of Certified Public Accountants over 20 years as well as to competently grasp the future directions of specialist fields focusing on accounting, auditing, and so on.
Relationship with Japan Federation of Certified Public Tax Accountants' Associations
Over 20 years activities ( including director's activities for years ) at the Local Japan Certified Public Tax Accountants' Association, we obtain information which enables us to respond appropriately to the changing times such as the way the tax authorities think and the methods of taxation. While providing taxpayers with correct taxation awareness we also strive to provide thorough service and tax minimization plans.